1. CLEAR PLEXIGLASS PRINT
The technique of dibond printing is used to give an artwork even more depth than it already has. The plexification makes the colors look even richer and more vivid.
Dibond provides a very rigid yet optically flat panel, making it a perfect photographic mounting material. Mounting on Dibond gives you all the advantages of aluminium but with a significant weight saving – making it ideal for mounting larger photographic prints without any bowing.
The aluminium subframe, mounted to each finished Dibond mount provides a visible space between the mounted work and the wall, giving a 3 dimensional 'floating' presence to your photographs or artwork. Dibond mounting; durable, lightweight yet rigid.
​The photo is printed using the Durst Lambda* technique and carefully pasted on an aluminum plate of 4 millimeter thick. The photo is then covered with a 3 mm layer of Plexiglass, which is 99,7% UV resistant. We are able to print our images full colour or black and white in sizes up to 120×180 cm.
Our Plexiglass on dibond images are, without a doubt, of museum quality.
* A Lambda C-type print is a digital print produced using Durst's Lambda machine – a photographic printing machine that uses three lasers (RGB – red, green and blue) merged into one beam to produce digital c-type prints on light-sensitive silver halide materials. Exposed paper is then traditionally wet' processed using photographic chemistry, in much the same manner as traditional photographic prints produced using negatives with an enlarger in a darkroom.
Mounting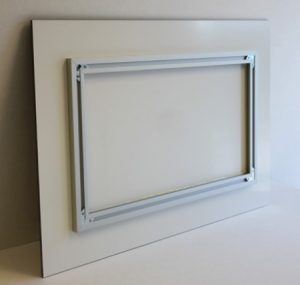 All images are delivered with a mounted U-profile system and a J-profile to hang the image on your wall. The advantages of this system are it's floating effect, stability against the wall and protection of the image.
2. FINE ART PAPER PRINT
Hahnemühle Fine Art Baryta is a gloss, high-white photo paper with a small structure, which is very reminiscent of the Baryta paper from the analog era.
Due to the unique coating, in combination with the specially developed base material, this product is suitable for printing black and white images, but color prints also give excellent results. Due to the very smooth coating, black/white prints are deep black, with a lot of grey tones and an incredible sharpness. Color prints are distinguished in sharpness, richly saturated colors, high detail and very smooth color transitions.
Our unparalleled Fine Art Print quality: we have our images printed with large format printers with the widest color range and the finest resolution. This gives the most beautiful color reproduction, smooth color transitions and continuous tone gradients, the deepest blacks and reproduction of the finest details. Fine art is printed in 12 different colors and 3 shades of grey. The photo is carefully pasted on an aluminum plate of 4 millimeters thick.
Our Fine art prints on dibond are, without a doubt, of museum quality.
Pricing
| | | | |
| --- | --- | --- | --- |
| Size | Material | Regular | Limited Edition |
| 30 x 40 cm | clear plexiglass | € 255 | € 395 |
| 30 x 40 cm | fine art | € 210 | € 355 |
| 50 x 70 cm | clear plexiglass | € 500 | € 830 |
| 50 x 70 cm | fine art | € 450 | € 750 |
| 60 x 80 cm | clear plexiglass | € 725 | € 1250 |
| 60 x 80 cm | fine art | € 650 | € 950 |
| 90 x 120 cm | clear plexiglass | € 1075 | € 2350 |
| 90 x 120 cm | fine art | € 880 | € 1750 |
Included in the price:
BTW=VAT= 21%
Shipping charges within the Benelux, including specialty art packaging and insurance, are free of charge.