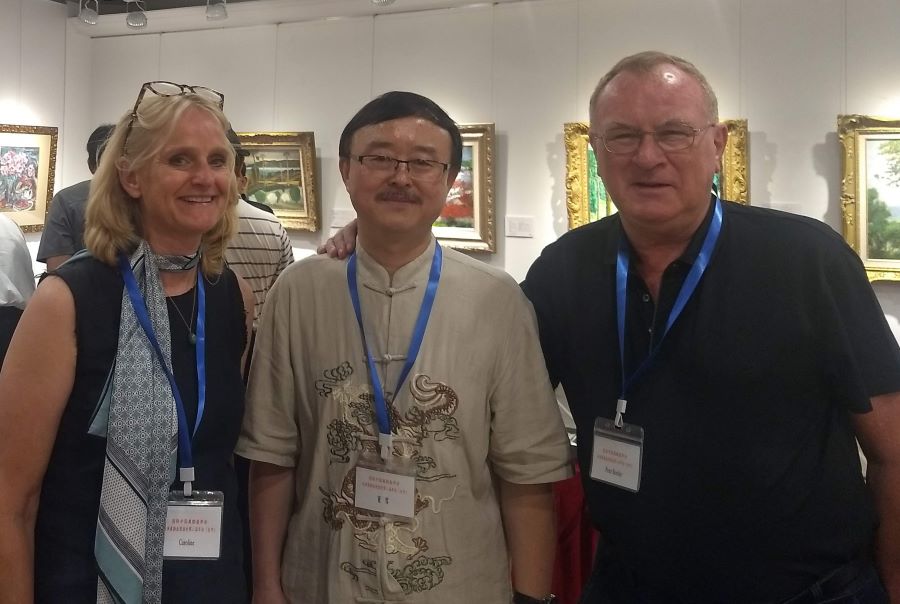 In Memory of Dr. Peter Bentley
Dr. Peter Bentley 1948 – 2020
We want to share with our website visitors about the passing of Peter Bentley in October 2020. Peter's contribution to the snuff bottle world is important. I met him in early 2017, when I called and kindly asked him to help me document the collection of my father, Robert Grootveld, who was suffering from Alzheimer's. Since my father's collection houses a great number of modern inside-painted snuff bottles I considered Peter would be the best person to assist us. I was so grateful that he came over to The Netherlands to work with me on the collection for two weeks. During that time, you can imagine, we got to know each other quite well.
In 1985, Peter moved from the UK to Hong Kong to work. He fell in love with the region and never moved back. Peter learned to speak and write both Cantonese and Mandarin. During one of his business trips to Beijing, he came upon a small snuff bottle, without knowing what it was. That first purchase ignited his interest in this lovely area of art. By studying and collecting them, his knowledge about snuff bottles rapidly improved.
In 2014, during the Hong Kong and Xian convention, Peter, now a member of the Society, gave a lecture in Xian, which was subsequently printed in the Journal, entitled "Contemporary Schools of Inside-Painting." During that Convention, he met my parents. Like my father, he was in close contact with many artists and some of them became good friends of his. Peter was particularly moved by bottles painted inside with landscapes and they became the focus of his collection. As a Mandarin-speaker, it was easy for him to communicate with the inside-painted artists.
Peter's, as well as my father's wish, was to raise the awareness of other collectors to contemporary inside-painted snuff bottles. As such his loss to our collecting world is immense. It was partly due to Peter that I came to admire snuff bottles more — not only modern inside-painted bottles, but also antique ones. To be honest, I miss his knowledge every day and am grateful to have met him; an emotional, sweet, sometimes stubborn gentleman.
Peter is survived by his lovely wife, Bing Bing and stepson, Li Ching Kin.
Dear Peter, thank you for your wise lessons about snuff bottles and life in general. May you rest in peace.